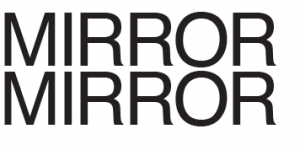 April 28–May 28, 2022
AN EXHIBITION OF CONTEMPORARY ART
FROM THE COLLECTION OF
HEDY FISCHER + RANDY SHULL
22 LONDON RD, ASHEVILLE, NC 28803N
Self-portraits have been made since we first glimpsed our reflections in water, but it was not until the mid-fifteenth century when the mirror was made from more reflective silvered glass, that artists can be frequently identified depicting themselves as either the primary subject or as an important character in their painting. They were the one model always readily available.
The twenty-six artists in Mirror Mirror assert themselves into their work in a variety of ways. Abraham Cruzvilleges, in Blind self-portrait listening to the beetles while scratching a notched stick so to invoke the universal magic of the power of destruction, presents himself in the accumulated detritus from his daily life, turned into a massive painting that, each time it is installed, takes on the space in a new way. Trenton Doyle Hancock's Torpedo Boy Steps and Screws Wearing Some Cutty Black Shoes, sees himself as a superhero football star who tackles good and evil in his epically detailed painting. Aaron Fowler uses mirrors in Blue, his full-size depiction of himself, which refers to Barkley Hendricks' self-portrait, Brilliantly Endowed. By using mirrors as both the background and the self-portrait, Fowler pulls the viewer into the work, creating a new "painting" in each reflected view. Margaret Curtis renders her anxiety during one of the world's most challenging times, in her obsessive painting, Portrait of My Anxiety (Wallpaper).
As we continue to navigate this devastating pandemic, we have all been altered in both small and large ways. We were forced to stay at home, if possible, and learned to work from home, go to school from home and "see" our friends and family from a computer screen while remaining at home. This forced pause in our normal lives caused a great deal of self-searching among many of us. We have reevaluated ourselves, reestablished our priorities and realigned our goals. In short, we have done a lot of personal reflecting and inward gazing. What do I truly want from my life? With this new self-seeking, what can we learn from how artists have portrayed themselves and is there relevance to be found in their self-seeking for our own?
APPOINTMENTS
Individuals as well as larger groups such as school groups may make a reservation for viewing the exhibition between April 30-May 28. Please email Hedy at

[email protected]

 or 

[email protected]

22london.org to arrange an appointment.
PLEASE COME BACK TO VISIT ANOTHER TIME IF YOU OR ANY MEMBER OF YOUR GROUP:
• has cough, fever, shortness of breath, or other flu-like symptoms
• has recently been in contact with another person who is suspected to have, or tested positive for, COVID-19.
MASKS
Face coverings are required at all times throughout the gallery for staff and visitors aged 3 and older. Face coverings must cover the nose and mouth, and be secured to the head with ties, straps, or loops over the face or wrapped around the lower face. Masks are available for purchase for visitors who do not bring their own.
MAINTAIN SOCIAL DISTANCE
Walk, wait, and sit with at least 6' between individuals or groups.