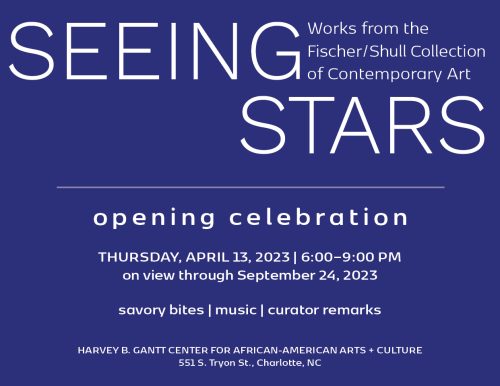 SEEING STARS


April 13–September 24, 2023
WORKS FROM THE COLLECTION OF HEDY FISCHER + RANDY SHULL
Join us as we celebrate Harvey B. Gantt Center's new exhibition, SEEING STARS: Works from the Fischer / Shull Collection of Contemporary Art, featuring works by Kehinde Wiley, Simone Leigh, Vanessa German, Kerry James Marshall, and others. The evening will include savory bites, music, and remarks by curator of SEEING STARS, Dexter Wimberly.
SEEING STARS highlights some of the groundbreaking artists in the Fischer / Shull Collection, with an emphasis on works that provide profound commentary on American race and gender.
The exhibition includes painting, sculpture, photography, and mixed-media works created by 22 of the most significant visual artists of our time.
For directions and parking, visit ganttcenter.org/visit-the-gantt/directions/.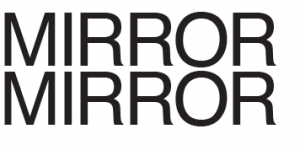 All I wanted out of this world, from the beginning, was to find out who I was. When you look in a mirror, you see yourself, you hope. –Louise Nevelson
Self-portraits have been made since we first glimpsed our reflections in water, but it was not until the mid-fifteenth century when the mirror was made from more reflective silvered glass, that artists can be frequently identified depicting themselves as either the primary subject or as an important character in their painting. They were the one model always readily available.
The twenty-six artists in Mirror Mirror, assert themselves into their work in a variety of ways. Abraham Cruzvilleges, in Blind self-portrait listening to the beetles while scratching a notched stick so to invoke the universal magic of the power of destruction, presents himself in the accumulated detritus from his daily life, turned into a massive painting that, each time it is installed, takes on the space in a new way. Trenton Doyle Hancock's Torpedo Boy Steps and Screws Wearing Some Cutty Black Shoes, sees himself as a superhero football star who tackles good and evil in his epically detailed painting. Aaron Fowler uses mirrors in Blue, his full-size depiction of himself, which refers to Barkley Hendricks' self-portrait, Brilliantly Endowed. By using mirrors as both the background and the self-portrait, Fowler pulls the viewer into the work, creating a new "painting" in each reflected view. Margaret Curtis renders her anxiety during one of the world's most challenging times, in her obsessive painting, Portrait of My Anxiety (Wallpaper).
As we continue to navigate this devastating pandemic, we have all been altered in both small and large ways. We were forced to stay at home, if possible, and learned to work from home, go to school from home and "see" our friends and family from a computer screen while remaining at home. This forced pause in our normal lives caused a great deal of self-searching among many of us. We have reevaluated ourselves, reestablished our priorities and realigned our goals. In short, we have done a lot of personal reflecting and inward gazing. What do I truly want from my life? With this new self-seeking, what can we learn from how artists have portrayed themselves and is there relevance to be found in their self-seeking for our own?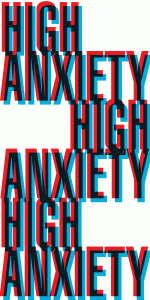 OCTOBER 29–NOVEMBER 22, 2020
High Anxiety, an exhibition of contemporary art from the Collection of Hedy Fischer and Randy Shull examines our unstable times through a multiplicity of artistic positions and voices. High Anxiety brings new perspectives to bear on themes such as identity, forced migration, politics, technology, pandemics and corporate culture.
The exhibition presents a number of international artists, whose work speaks directly to our anxiety-ridden times. Hailing from countries as diverse as Iran, South Africa, The Netherlands, Canada, Colombia, Mexico, Jamaica and the United States, the artists work from their own stories and experiences, examining current and timeless issues through a universal yet highly personal lens.
The twenty-one artists in High Anxiety have responded to this angst and channeled it into the sculptures, paintings, photographs, and videos that reflect the tension humming in the background in all our lives. Colombian artist Mateo Lopez borrows a font designed by Josef Albers to spell out and abstract the word "Truth", garbling it beyond recognition in his hybrid painting. Trenton Doyle Hancock reminds us all of the persistent lies we are being told by our leadership in his massive painting Bad Promise, as the truth slips through the giant, extended hand. Heightened by our accelerated digital existence, the scope and detail of our anxiety has reached new proportions around the globe. Nari Ward channels the powerful forces at work in the Black Lives Matter movement with his large-scale clenched fist fashioned out of shoelaces and Rashid Johnson shows us what he feels like to be a Black man living in the United States.
As we write this, a global pandemic caused by the novel coronavirus is causing anxiety world-wide with people not able to go to work, to school, to the gym, to restaurants or to any gatherings. People are either voluntarily or legally self-isolating. Amanda Ross-Ho's blue glove comments on both her studio practice and reminds us of our need for hygiene. Mexican photographer Yolanda Andrade captures all of us mirrored in life as in death, a reality that seems more impending than ever before.
Hedy Fischer + Randy Shull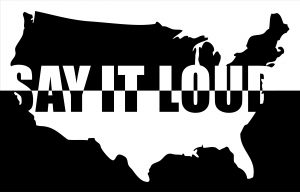 September 29—October 28, 2018
22 London Rd Asheville, NC 28803
Randy Shull and Hedy Fischer invite you to SAY IT LOUD at their warehouse space, 22 London. The exhibition title SAY IT LOUD, is taken from the funk song performed by James Brown and written with his bandleader Alfred "Pee Wee" Ellis, "Say It Loud–I'm Black and I'm Proud" in the tumultuous year of 1968. Nineteen artists explore the complex cultural and political issues still facing America 50 years later. This exhibition illustrates the struggles and achievements of African Americans and challenges dominant historical perspectives with powerful work that is visceral and squarely focused on narratives of ethnic identity, institutional racism, gender and beauty through contemporary art from the collection of Hedy Fischer and Randy Shull.
Kehinde Wiley, Prince Albert, Prince Consort of Queen Victoria, 2013, Oil on canvas, 72" x 60"

Collection of Randy Shull and Hedy Fischer
Khalik Allah
Kevin Beasley
Sanford Biggers
McArthur Binion
Aaron Fowler
Trenton Doyle Hancock
Alicia Henry
Rashid Johnson
Titus Kaphar
Kerry James Marshall
Rodney McMillian
Pope.L
Alison Saar
Betye Saar 
Paul Mpagi Sepuya
Clarissa Sligh
Hank Willis Thomas
Mickalene Thomas
Kehinde Wiley
Love, Devotion and Surrender
May 13—June 1, 2016